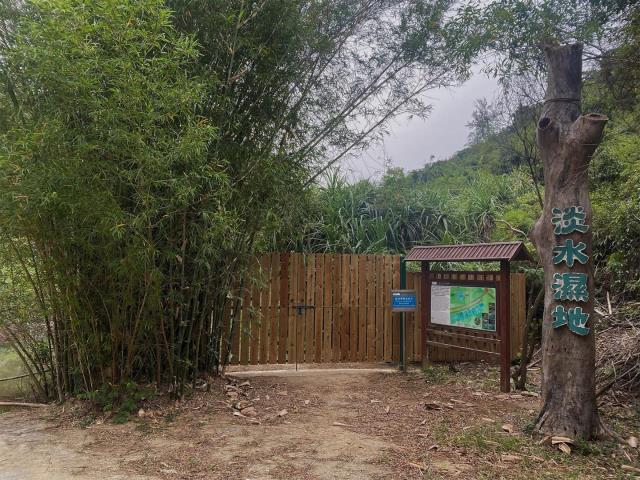 | | |
| --- | --- |
| Area : | Coloane |
| Address: | Estrada da Barragem de Ká Hó |
| Opening Hours: | In accordance with the visiting time requested. |
| Tel: | 2888 0087 |
| Fee: | Free |
| Transportation: | Public Bus Information Station |
Introduction:
The 6,145m2 ecological zone is located in the valley of the woodland belt lying to the northeast of Coloane. It faces the east and is one of the stream water sources of Ká Hó Reservoir.
 It used to be the farmland of the inhabitants of Ká Hó Village in the 1980s but fell into disuse when they abandoned farming along with social changes. With the passage of time, the farmland remained neglected, overgrown and creeping plants grew in abundance over the water bodies therein and hindered the ecological development of wetland environment.
To remedy and restore the freshwater wetland, IAM has to restore the water sources through effective means. To this end, it removed the overgrown creeping plants and vines, created different-sized and independent excavated ponds, enhanced habitats and increased the diversity of species to avoid homogeneity. During the process, actions were taken for water protection, fish breeding and to create favourable living conditions for aquatic insects, which are essential for restoring local freshwater wetland. Removal of invasive species, control and balance over fast-growing and overpopulated species and avoiding excessive human interference are other measures taken to manage the ecological health of freshwater wetland. Today, the ecological zone is home to aquatic insects and animals, like dragonflies, water beetles (Dytiscidae) and water striders (Gerridae). Many birds also come over to forage for food, such as Chinese Pond Herons (Ardeola bacchus), Little Egrets (Egretta garzetta) and Common Kingfishers (Alcedo atthis).
Note:
An application for visit to the wetland is required.