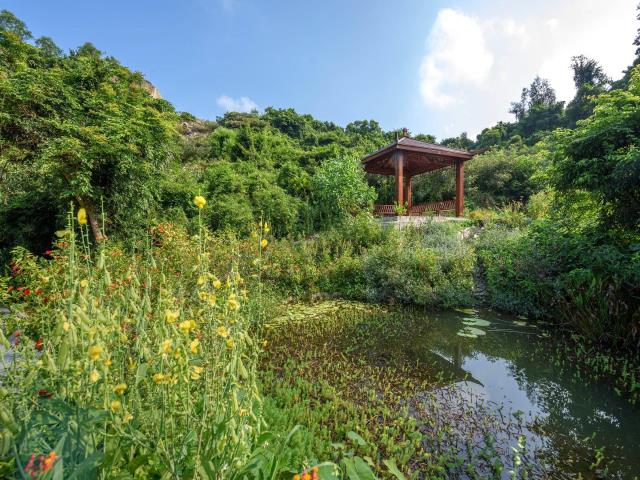 | | |
| --- | --- |
| Area : | Coloane |
| Address: | Seac Pai Van Park |
| Opening Hours: | Open for visits from 9:00 a.m. to 5:00 p.m. daily. |
| Tel: | 2888 0087 |
| Fee: | Free |
| Transportation: | Public Bus Information Station |
Introduction:
Located in the northeast corner of Seac Pai Van Park, Wetland in Seac Pai Van is an area near a mountain stream native to Macao. It was originally an area where only Dicranopteris pedata grew and it was severely covered by vines and foreign invasive plants. It had little ecological function and was unable to attract animals to stay and settle down. Through the improvement of the water bodies in the area, planning of the visiting route of the wetland and installation of facilities such as recreational platforms and pavilions, the Municipal Affairs Bureau (IAM) used a progressive approach to carry out diversion and storage of water and grow native plant species to attract different kinds of animals and insects. After many years of effort, the area has gradually become a wetland environment.
Interested residents are free to visit Wetland in Seac Pai Van from 9:00 a.m. to 5:00 p.m. daily. Crowd control measures may be implemented depending on the actual situation.
Note:
Locations of entrances to Wetland in Seac Pai Van:
Entrance in park trail: Go through the Dragonfly and Butterfly Garden in Seac Pai Van Park, enter Seac Pai Van Park Trail and walk to the left for about 250 metres to reach the entrance in park trail to the wetland (near C49 information point of trail).
Entrance in Estrada Militar: Enter Estrada do Altinho de Ká Hó in Coloane and go uphill for about 850 metres, upon which the sign of door of the Ecological Trail Garden of Medicinal and Aromatic Plants and South China Medicinal Plants Garden can be seen on the left. Take a left turn at the junction to enter Estrada Militar and go forward for about 780 metres to reach the entrance in Estrada Militar.