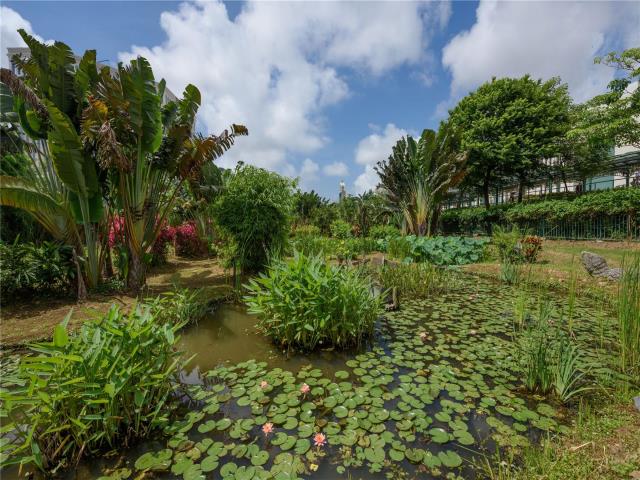 | | |
| --- | --- |
| Area : | Taipa |
| Address: | Rua da Baía de Nossa Senhora de Esperança |
| Opening Hours: | Free visit from 09:00 to 17:00 on Wednesday, Saturday, Sunday, public holidays and compensatory rest days |
| Tel: | 2888 0087 |
| Fee: | Free |
| Transportation: | Public Bus Information Station |
Introduction:
Wetland in Avenida da Praia, Taipa was originally a mangrove swamp area. After the development of Cotai area by the government, the Municipal Affairs Bureau (IAM) has continuously used this piece of land for transformation, hoping to restore its ecological value lost in the development process.
The ecological pond in the western section is currently an important ecological zone in the whole Wetland in Avenida da Praia, Taipa. In November 2010, the reed beds near the road were infested with Mikania micrantha, one of the 100 of the world's worst invasive plant species. IAM proactively cleared the plants to prevent the plants from invading and affecting the ecological structure of the whole area of Avenida da Praia, Taipa, enhance the landscape scenery and increase the ecological and tourism value of the area. In the same year, IAM cultivated a lot of different plants in the ecological ponds and added different leisure facilities, so that the public can appreciate and experience the call of the birds and the aroma of the plants in nature while using the naturalistic facilities and enjoying nature. In a field investigation on 18 April in the following year, a record showed that tens of fireflies flew in the reed beds have been recorded, which was rare.
After many years of continuous optimisation, the biodiversity of the wetland is improved, and many herons, forest birds, dragonflies and butterflies, etc. inhabit the area. To make it convenient for the public to visit the wetland and learn about its biodiversity, explanation boards with information about organisms in the wetland have been installed in the area to provide basic information about birds, insects, aquatic plants, etc. QR codes are also available on the explanation boards so that the public and tourists can scan the codes to access the Biological Database of Macao and learn about detailed popular science information on the species.
To let the public experience for themselves a green lifestyle in harmony with nature, the public and tourists can visit the ecological pond in the western section of the wetland freely from 9:00 a.m. to 5:00 p.m. every Wednesday, Saturday and Sunday and on public holidays and compensatory rest days from July 2021. Furthermore, visitors can view the Portuguese buildings in
Avenida da Praia, Taipa
, which are regarded as one of the ten most beautiful spots in Macao, and listen to natural symphony of the calls of frogs and toads such as
Duttaphrynus melanostictus
and
Hylarana guentheri
at night.