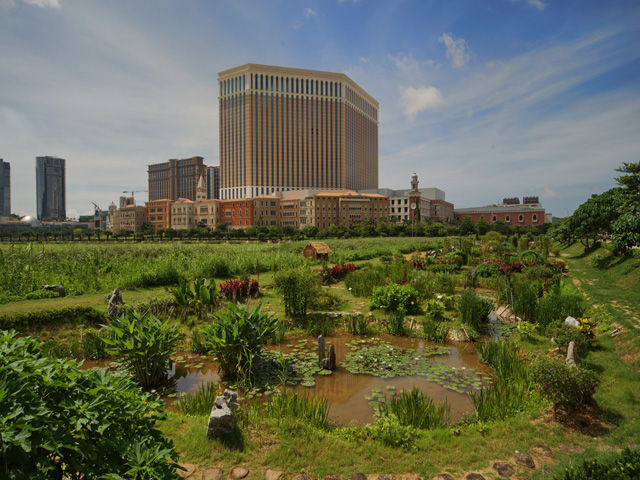 | | |
| --- | --- |
| Area : | Taipa |
| Address: | North of Estrada da Baía de Nossa Senhora da Esperança |
| Opening Hours: | In accordance with the visiting time requested |
| Tel: | 2888 0087 |
| Fee: | Free |
| Transportation: | Public Bus Information Station |
Introduction:
Wetland in Avenida da Praia occupies an area of 115,308 square metres. It is one of the important wetland ecological zones in Macao.
In November 2010, the IAM discovered that the roadside along the reed field had been invaded by an exotic plant called Mikania micrantha Kunth, one of the top 100 most harmful invasive plants in the world. To completely restore the affected area and to avoid the entire ecological structure at the Taipa Houses-Museum from being invaded and affected by Mikania, with the aim of further optimising the landscape in this zone and improving its ecological and tourism value, IAM uprooted all the invasive Mikania in December 2010 and built five interconnecting ecological ponds of different sizes along the roadside of Estrada da Baía de Nossa Senhora da Esperança. In addition, a variety of plants were planted, including lotus, a plant highly representative of the beauty of Macao, and other aquatic plants such as water lily, pickerelweed, field-bank galingale, umbrella plant, Saururus chinensis, as well as shrubs such as sweet osmanthus, crape myrtle and Allamanda schottii for decoration. Since then, the prototype of this ecological viewing zone has been formed. It has also been added with various recreational facilities, including wooden benches, a shelter made of Cissus sicyoides, and a bamboo screen. Hence, while appreciating and feeling the natural beauty of the environment, residents can use the naturally-styled facilities to enjoy the nature.
Moreover, visitors can view the Portuguese buildings of the Taipa Houses-Museum, one of the top ten most beautiful scenic spots in Macao. At night, visitors can hear the croaking of different frogs, such as Asian common toads and Gunther's frogs, which resembles the performance of natural music. According to the finding of the field survey conducted by IAM on 18 April 2011, dozens of fireflies were found in the reed field, which were rarely seen in Macao.