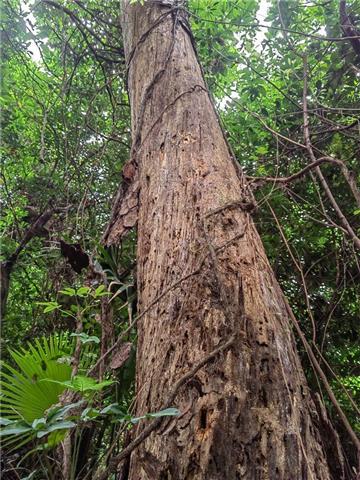 Date : 28/04/2023



Guia Hill is a place of high incidence of brown root rot disease. With a large number of trees damaged in the typhoons in previous years, vines have more conditions to thrive and cause damage. This has continuously made trees in the Guia Hill area weak and the forest cannot regenerate naturally. Since last year, the Municipal Affairs Bureau (IAM) has established a designated ecological restoration area in 5.5 hectares of land in the periphery of Guia Hill. Vines and wilted trees have been cleared, tree pits have been dug and the soil has been improved. About 3,100 new saplings have also been planted to increase biodiversity and the natural ecological environment in Guia Hill has been gradually restored.

 

In recent years, Guia Hill seemed green and vibrant. However, as there is a major threat from the wild growth of vines spreading over a large area of the mountain forest, the trees have continuously become weak or wilted as they were unable to carry out photosynthesis. The saplings in the undergrowth have also failed to grow normally due to lack of sunlight and the forest cannot regenerate naturally. Therefore, IAM started the fourth phase of the restoration plan of mountain forests in September 2022 to carry out the ecological reconstruction in Guia Hill step by step.

 

For a long time, Guia Hill has been a place of high incidence of brown root rot disease. The hilly terrain is also prone to loss of water and soil. A designated ecological restoration area of 5.5 hectares was established according to the current condition of Guia Hill and its geographical characteristics in the restoration plan that began in September last year. In addition to general work procedures like keeping the existing healthy trees, clearing the vines (such as invasive plants like Mikania micrantha and Pueraria montana var. lobata) and wilted trees, digging tree pits and carrying out soil improvement, a special technique for reverse slope land reorganisation has been used and root barrier panels have been installed for the first time to prevent loss of water and soil in the slopes. As for the pits in places of high incidence of brown root rot disease, the roots of the plant seedlings which may be infected by pathogens and the nearby soil have all been removed and a total of about 480 cubic metres of healthy soil has been used as replacement, so as to reduce the chance of the roots of the newly planted saplings coming into contact with pathogens, hence reducing the infection rate.

 

In consideration of the climate and environmental characteristics of Macao and factoring in the conditions of the mountain forests and the ecological restoration experience in the Pearl River delta area in recent years, 23 tree species including Bischofia javanica, Elaeocarpus sylvestris, Heteropanax fragrans, Michelia macclurei, Castanopsis hystrix, Myrica rubra, Erythrophleum fordii and Castanopsis fissa were chosen in the restoration plan of the mountain forest in Guia Hill to create conditions for the habitation and food source for wild animals, so as to increase biodiversity and create a healthy forest with distinct layers of herbs, shrubs and trees.

 

In the first quarter of this year, IAM restored an area of about 5.5 hectares of steep slopes under Estrada do Engenheiro Trigo (generally called 33 bends) and completed the planting of about 3,100 new saplings. It is hoped that the planted saplings can adapt to the mountain forest as soon as possible to gradually restore the natural ecological environment of Guia Hill.

 

In recent years, Macao has been hit by super typhoons like Hato, Mangkhut and Higos. Mountain forests have been severely damaged and more than 500,000 trees have suffered different degrees of damage. To restore the ecological environment of the mountain forests in Macao, IAM has successively launched various restoration plans since 2018 and endeavoured to restore at least 120 hectares of mountain forest by 2024. Up to April this year, emergency restoration has been completed in 40 hectares and the overall ecology of 50 hectares has been optimised.