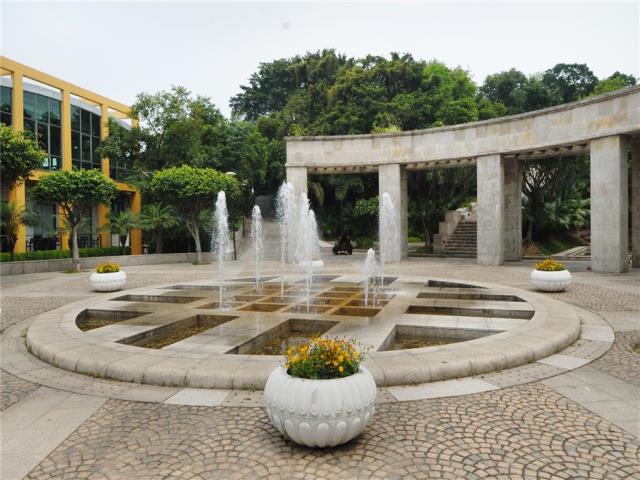 | | |
| --- | --- |
| Area : | Macau |
| Address: | Colina de Mong Há, Macau |
| Opening Hours: | Whole Day |
| Tel: | 2833 7676 |
| Fee: | Free |
| Transportation: | Public Bus Information Station |
| Facilities: | children's play facilities, fitness facilities, public toilet |
Introduction:
Mong Há Hill used to be covered by lush and dense vegetation and was known to be one of the "green lungs" of the Macao Peninsula. A green space for leisure activities was built on it during the 1990s and was named Mong Há Hill Municipal Park at the time it was opened to the public in 1997. Military facilities that fell into disuse can be found amidst the native vegetation of the hill.
The entrance of the park is in Avenida do Coronel Mesquita, which is accessible by a short walk up Rampa do Forte de Mong Há lying adjacent to Institute for Tourism Studies. Right in front of the entrance is a Roman-style fountain square neighboured by an artificial pond. The different footpaths surrounding the square lead to different activity areas. 
The Trail at Mong Há Hill to the west of the square is lined with native tree species and ends at a performance area, where there is a stairway leading to a viewing platform concealed by trees and shrubbery. While standing on the two huge rocks of the viewing platform, visitors can enjoy an imposing view of many parts of the city. Several pavilions have been created along the trail for visitors to rest. Mong Há Fort, the highest point of the park, is accessible by taking the ascending slope northwest of the square. It was an important military fortification of Macao at the end of 19th century offering a panoramic view for monitoring activities in the Border Gate and its surroundings. A children's playground and a natural rock cave are just a short distance from the artificial pond. There is a stairway on the east side of the square leading down to a cobbled footpath and the Mong Há Eco-Centre.