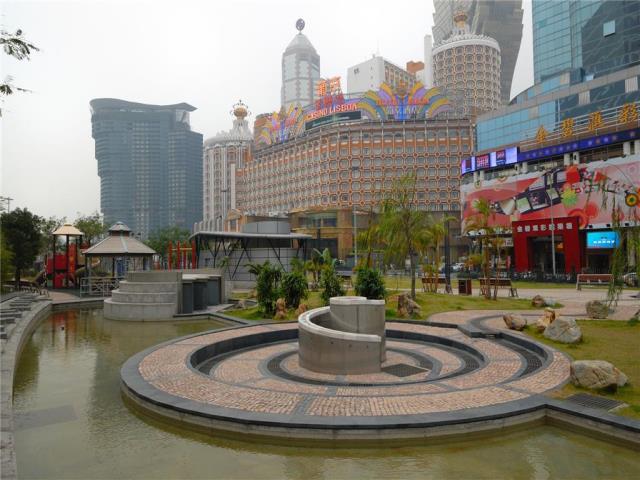 | | |
| --- | --- |
| Area : | Macau |
| Address: | Avenida da Amizade de Macau |
| Opening Hours: | The section between Praça de Ferreira do Amaral and Rua de Cantão: Whole Day Other sections of the Garden:06:00-24:00 |
| Tel: | 2833 7676 |
| Fee: | Free |
| Transportation: | Public Bus Information Station |
| Facilities: | children's play facilities, fitness facilities, public toilet, running trail |
Introduction:
The Arts Park was opened on 9 December 1999. The location used to be an open canal and was turned into a closed canal for hygienic and environmental reasons. In addition to a diversity of plants and play facilities for children, the most obvious feature of this park lies in the presence of large-scale artistic statues and sculptures of personages of Macao, which turns this place into a multifunctional, lush and pleasant open garden.
The Arts Park covers a wide area from Avenida Xian Xing Hai to Praça de Ferreira do Amaral. Its strip-shaped design forms cross-shaped vertical and horizontal axes with Comendador Ho Yin Park and Dr. Carlos d'Assumpção Park. The park's paths are paved with two-coloured Portuguese gravel similar in style with those in Comendador Ho Yin Park and Dr. Carlos d'Assumpção Park, allowing them to echo each other.
Due to the needs of urban development, the park underwent a renovation project in 2006. The section of the park from
Alameda Dr. Carlos d'Assumpção
to
Praça de Ferreira do Amaral
was re-planned to build an underground parking lot on the lower floor, and to remodel the park into three sections on the upper floor. It was reopened in late 2007. There are recreational facilities such as children's playground, fitness facility area, pool, pavilion, etc. In late 2019, the section of the park near
Rua de Berlim
underwent a comprehensive optimisation project and was reopen in early 2022. It is now equipped with a sports warm-up area, an adult fitness facility area, a children's play area and a running trail 1.5 metres to 2 metres wide. The facilities are suitable for residents and tourists of different ages, providing more diversified leisure activity space for the public.