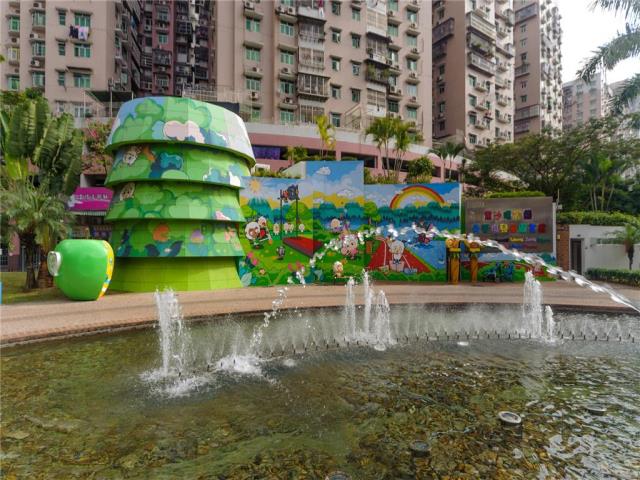 | | |
| --- | --- |
| Area : | Macau |
| Address: | Entre a Avenida 1o de Maio e a Avenida Leste do Hipódromo, Macau |
| Opening Hours: | Whole day |
| Tel: | 2833 7676 |
| Fee: | Free |
| Transportation: | Public Bus Information Station |
| Facilities: | library, children's play facilities, fitness facilities, sport court, public toilet, snack kiosk, Gateball court |
Introduction:
Opened to the public on 27 October 2003, the "L"-shaped park is a semi-open green space surrounded by fences and walls which make it only accessible through its few entrances. The park is open round the clock, but the facilities inside the park, such as the mini-soccer pitch and libraries, are only open within designated hours. The park stretches along Avenida 1o de Maio all the way to Avenida Leste do Hipódromo and is divided into three independent sections by other public streets, with a footpath paved with Portuguese cobblestones connecting the different sections. The footbridge at its northeastern end leads to Areia Preta Seaside Park.
The site of the park used to be part of the reclaimed land in Areia Preta district where its roads are nowadays the main traffic arteries connecting the northern district with NAPE area and Taipa. Today, the park is the "green lung" of Areia Preta district that helps to cleanse the polluted air and reduce noise disturbance.
The ground of the park is mainly paved with Portuguese cobblestones, with a pebbled footpath in black and yellow running in between the children's playground and the lawn. Red Portuguese cobblestones, which are rarely seen in Macao, are used for paving the small open-air square, giving the park a splash of colour.
A fountain is built in front of each of its two libraries to enliven the serene park.
Across the park are four children's playgrounds, three multipurpose sports grounds, a long corridor and a number of trellises and pergolas of innovative design. It is a relatively large and full-fledged garden in the urban area which offers the surrounding residents many recreation and leisure options.