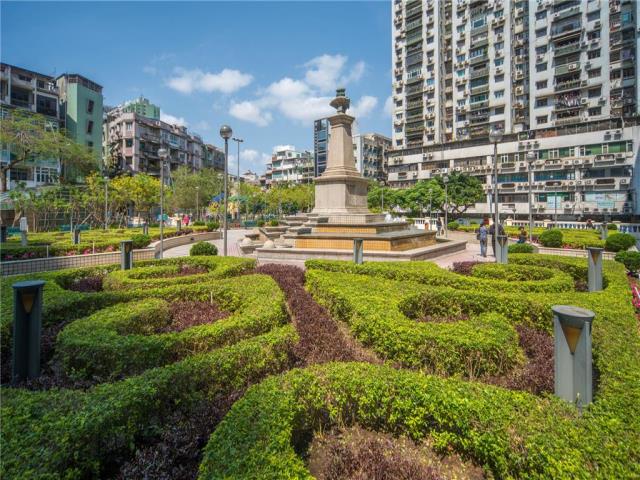 | | |
| --- | --- |
| Area : | Macau |
| Address: | Rua de Ferreira do Amaral, Macau |
| Opening Hours: | Whole Day |
| Tel: | 2833 7676 |
| Fee: | Free |
| Transportation: | Public Bus Information Station |
| Facilities: | children's play facilities, fitness facilities, public toilet |
Introduction:
Vasco da Gama Garden and Vitória Garden were constructed at the end of the 19th century. They used to be part of the former Rua Nova de Vasco da Gama, which was built in 1898 by the government to commemorate the 400th anniversary of the arrival of the fleets of Vasco da Gama in India. It was a  boulevard 500 metres long and 65 metres wide that was flanked by Mock Bodh Trees (Ficus rumphii). Some of these old trees are still standing today, having witnessed the changes in the last century. The boulevard no longer exists, and a school, a hotel and the headquarters of the Public Security Police Force of Macao have been built in its place. The two gardens are the extant green areas of the former boulevard.
Vasco da Gama Garden spans two square plots of land at different elevations. A commemorative bronze bust of Vasco da Gama by sculptor Tomás da Costa (inaugurated on 31 January 1911) was set as the centrepiece, standing on a square stone pillar with its base embellished by bas-relief.
When the garden underwent large-scale renovation in 1997, wave-shaped fountains and barrier-free access were built on its lower level and a small pool with a fountain was built around the pillar supporting the bust of Vasco da Gama on the upper-level of the garden. The children's playground was reorganised and pavilions were built so residents can rest in the garden. A lot of new recreation facilities have been added to the garden, making it one of the most popular playgrounds for children.
In 2004, the garden underwent another construction project. An underground car park was built beneath it to provide a large number of parking spaces and alleviate the issue of insufficient parking spaces in the district, while most of its original features were restored.