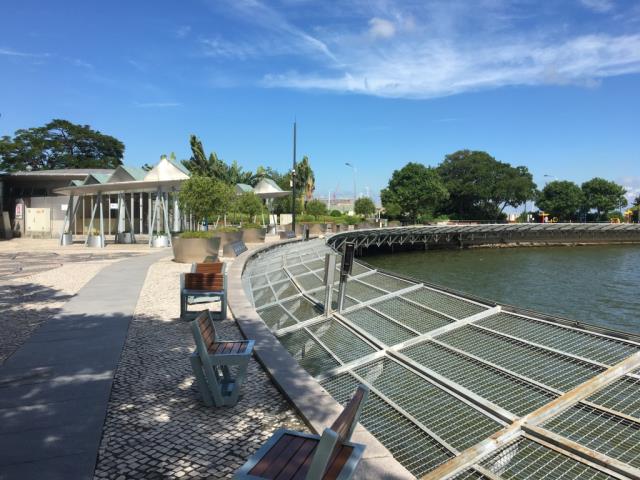 | | |
| --- | --- |
| Area : | Macau |
| Address: | Ao lado do Reservatório, Macau |
| Opening Hours: | Whole day |
| Tel: | 2833 7676 |
| Transportation: | Public Bus Information Station |
| Facilities: | children's play facilities, fitness facilities, water dispenser, beverage vending machine, public toilet, Storage lockers |
Introduction:
Construction of Reservatório Park started in 2000 in tandem with the construction works in Estrada do Reservatório. The 2,600 metre long park was completed after two phases of construction and surrounds the reservoir. It is furnished with recreational facilities and serves as a green and leisure venue. It is also an important pedestrian passage connecting ZAPE and Areia Preta.
Children's play facilities, fitness enhancing facilities, water dispensers, automatic beverage vending machines, storage lockers, etc. have been installed in the park. It is a venue favoured by the public to exercise in, in addition to Guia Hill. Furthermore, dog parks are located on both sides of the park near Estrada do Reservatório and Avenida da Ponte da Amizade.
In April 2022, optimisation works of the two children's playgrounds near Estrada do Reservatório and Rua dos Pescadores are carried out in phases due to the deterioration of facilities. Safer artificial grass mats have been installed, and climbing and balancing play equipment have been added to increase the types of children's play facilities. Meanwhile, children's wash basins and water dispensers have also been added. The area of the children's playground has also been expanded to provide a more comfortable leisure venue for children and the public.