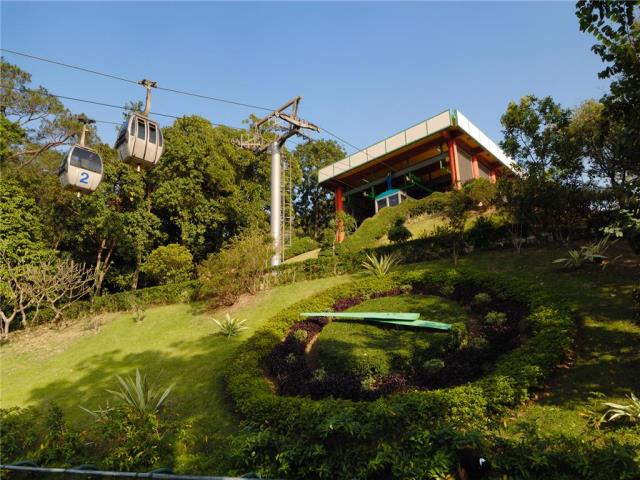 | | |
| --- | --- |
| Area : | Macau |
| Address: | Colina da Guia, Macau |
| Opening Hours: | Whole Day |
| Tel: | 2833 7676 |
| Fee: | Free |
| Transportation: | Public Bus Information Station |
| Facilities: | cable car station, sport court, children's play facilities, fitness facilities, snack kiosk, water dispenser, beverage vending machine, public toilet, Storage lockers, Gateball court |
Introduction:
Guia Hill Municipal Park is located on Guia Hill, the highest hill in Macao Peninsula, and the surrounding environment and facilities of the hill have been taken into the overall design and layout to create a multipurpose park. It offers visitors the most panoramic and scenic view of the city's urban districts and outlying islands.
The park is the "green lung" in the urban landscape of Macao Peninsula. Since the term of office of Governor Tomás de Sousa Rosa (1883-1886) during the Portuguese administration in Macao, a series of greening projects had been conducted to plant pine trees of South China origin on Guia Hill, and hence its name in Chinese, "Pine Hill". From an ecological perspective, Guia Hill has a natural wood area of high biodiversity and good vegetation succession. The park is one of the public parks in the city with the biggest communities of old trees, as it is home to eight of Macao's oldest Chinese Red Pine trees (Pinus massoniana), while a number of Lofty Fig (Ficus altissima) and Camphor Tree (Cinnamomum camphora) inside the park have a diameter of over one metre at breast height (diameter of tree trunk measured at 1.3 metres above ground). There is one children's playground at the Guia Recreation Square further down the cable car station and one at the viewing platform nearby Guia Lighthouse. The row of Lofty Fig trees (Ficus altissima) south of the Guia Recreation Square is the largest group of its kind in Macao. In addition to the above, Chinese Red Pine (Pinus massoniana), Chinese Banyan (Ficus microcarpa), Mock Bodh Tree (Ficus rumphii), Candlenut Tree (Aleurites moluccana), Batavia Cinnamon (Cinnamomum burmannii), Lance-leaved Sterculia (Sterculia lanceolata), Woodland Elaeocarpus (Elaeocarpus sylvestris), Mountain Tallow Tree (Sapium discolour), Panicled Mallotus (Mallotus paniculatus) and other trees make up a multi-layered vegetation structure with shrubs, ferns and herbaceous plants. Though the park vegetation is a broadleaf evergreen forest, there are trees within the vegetation whose leaves change colour seasonally, like Woodland Elaeocarpus (Elaeocarpus sylvestris), Mountain Tallow Tree (Sapium discolor), Chinese Tallow Tree (Sapium sebiferum) and Chinese Hackberry (Celtis sinensis). The red and golden yellow hues of these trees give residents a view of the beautiful colours of autumn here in the South.

A top Guia Hill stands Guia Fortress, with Guia Lighthouse and Chapel of Our Lady of Guia built inside it. The chapel features architectural elements typical of Portuguese convents of the 17th century. Both Guia Lighthouse and Chapel of Our Lady of Guia were inscribed on the World Heritage List in 2005 as part of the Historic Centre of Macao. Other park facilities include Guia Hill Nature Information Station, fitness trails, recreation square, multipurpose sports ground, children's playground and fitness equipment, etc.