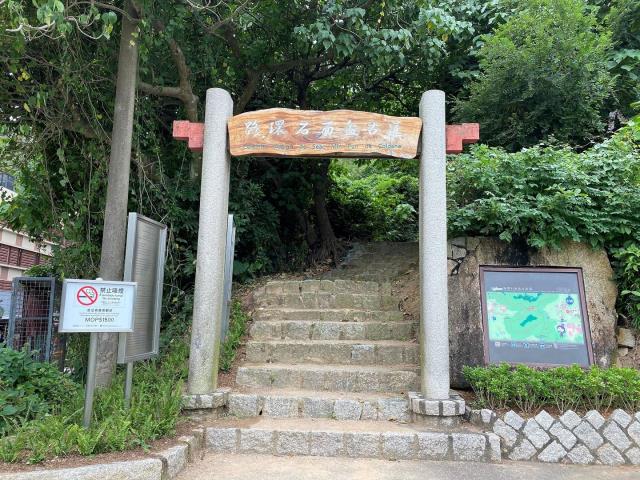 Area :
Coloane
Address:
Entrance: Estrada de Hac Sá , Coloane
Exit: Estrada de Cheoc Van , Coloane
Length: approx 1,375m
Opening Hours:
Whole Day
Tel:
2888 0087
Fee:
Free
Transportation:
Public Bus Information Station
Introduction:
Coloane Seac Min Pun Ancient Path is situated in the valleys on Coloane Island. It winds through the east and the west of the island, and is the oldest historic trail of Coloane. Back in the old days, people could only travel between Macao peninsula and Coloane Island by water, and no roads existed on Coloane Island. Residents of Hác-Sá Village and Coloane Village had to go through this sinuous and rugged path to do business or exchange goods. Hence, this ancient trail used to be the key communication route between the two places until the opening of the first paved road in the 1960s. Although the trail has lost its original function, it has witnessed the hard life of the villagers in the past century.

The administration began to revisit and trace the entire ancient route in 1999. After the completion of the restoration works at the turn of the millennium, the trail was reopened to the public on 26 November 2000 during the Islands Week. It is a good venue for local people to cherish the past, to enjoy an eco-trip or to test their physical fitness.

The trail is a typical single-route path, running from the entrance of Hác-Sá Village west bound cutting across two valleys. The route is short but sinuous and rugged. Visitors should know their physical condition and choose an appropriate route.

Plant observation zone
The eastern valley section facing Hác-Sá Beach is designated for plant observation. Walking up the stairs, you will be amazed by the abundance of botanic resources including rare species in Macao such as Chekiang Machilus. The Chief Executive also planted a Chekiang Machilus tree on the Millennium New Year's Day at the celebrity planting site of Small Taipa 2000 Circuit. Other rare plants found in this ancient path include Inflate Ormosia and Furcate Screwpine, and wild plants such as Small-fruited Uvaria with tasty fruits and Climbing Fern with small leaves.

Along the western valley section facing Coloane Village, which overlooks the Seac Min Pun scenic area, there are a number of lookout points – "Little Butterfly Valley", "Sunset Mountains" and "Vibrant Reds and Blues"; and rock landscapes like "Stretching Wall", "Single-tile Eaves", "Lying Whale" and "Toad on Shore". Deep at the bottom of the valley is the most renowned attraction – the "Seac Min Pun"(Stone Basin). Watching the clear stream spilling out from the little stone basin, one can't help walking the ancient route again and again. The restored route not only enables us to recall the hard life of our predecessors as we follow their footprint, but also provides a special attraction for tourists. Apart from walking, we also have to observe and experience while enjoying the ancient path.
Estimated walking time: 35 minutes